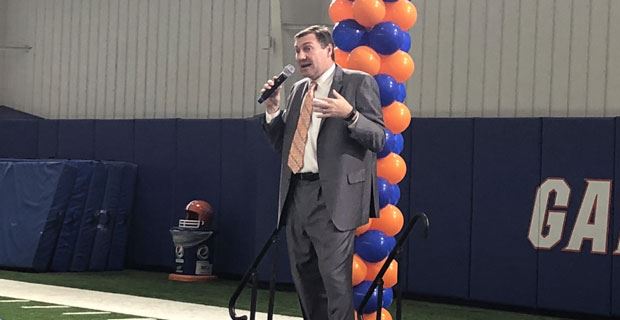 GAINESVILLE, Fla. -- Fresh off National Signing Day, coach Dan Mullen made his first public appearance in front of the fans themselves, hosting an hour-long chat with fans, season ticket holders, Alumni Association members and members of Gator Boosters.
It didn't take him long to draw some loud applause from the fans.
Just one question into the Q&A portion of of the program -- OK, the first guy who got the mic to ask a question asked three questions, technically -- he was faced with the question on many Florida fans' minds on Wednesday.
How will Florida keep up with Georgia, which posted a historic No. 1 recruiting class just weeks after playing for the national championship?
"Listen, winning one SEC Championship Game doesn't make you a dominant program, you know what I'm saying?" Mullen said with a laugh. "In two of the last three years, we've been to the SEC Championship Game. So even a blind squirrel finds a nut every once in a while."
As the fans roared with applause and laughter, Mullen continued on, light-hearted and enjoying himself.
The fans ate up his every word, many of which focused on embracing the expectations at Florida to win the kind of championships Georgia did in Atlanta... and the ones it lost.
There's no backing down now.
Florida has to close the gap on Georgia, and Mullen is certainly exuding the kind of confidence it will take -- both from him and his team -- to ensure Florida remains the dominant team a series it has won 21 of the last 28 in.
---------------
Contact Thomas Goldkamp by 247Sports' personal messaging system or on Twitter at @ThomasGoldkamp.