ATHENS, Ga. -- Kirby Smart isn't using the term 93KDay this time around but he is once again asking Georgia fans to turn out in force for the Bulldogs' annual G-Day spring scrimmage.
Set for April 21, the game will kick off at 4:00 p.m. and it'll be televised by ESPN. Because of the fact that five other teams in the conference will be breaking in new head coaches and aiming to do the same the third-year head coach believes it's as important as ever for Bulldog Nation to make a statement.
"As we all know, every team that gets a new head coach in the SEC, what is the mantra, what is the battle cry for their fan base to turn out and really represent their teams," Smart said. "We need our fan base, who has done everything we've asked them to do, to turn out April 21st at 4:00 and be out there for G-Day in what we expect to be another sellout, packed opportunity to go out and represent University of Georgia and show these kids in recruiting that it does matter and it is special here."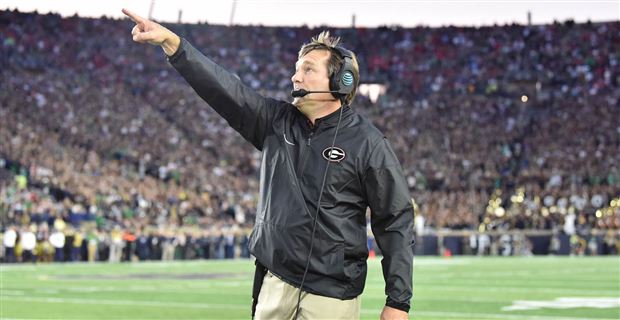 He issued the same challenged two years ago for his first spring game as the Bulldogs' head man. Whether it was a radio interview or a billboard, Smart made sure all Georgia fans knew that he wanted them in Sanford Stadium. The response was pretty impressive.
A capacity crowd showed up for the game and there were many others standing on the bridge outside of the stadium and others made it inside and took advantage of additional place to stand. In reality over 100,000 Bulldog fans showed up for that game.
MORE: Kirby Smart confirms new coach hires, potential staff shake up | UGA lands 6-foot-5 wide receiver
That support showed up again last season when UGA fans out numbered the Notre Dame faithful in their own stadium. The Bulldog faithful also turned out for the Vanderbilt game and for the Rose Bowl. Because of the showing in those venues, Smart is confident that the Bulldogs' will play in front of a sea of red and black come April.
"I want to call out the Dawg Nation and call out all the fans because you really think about the tremendous job and give them a thanks," Smart said. "As we went across the country and played literally across the country, and we went to Notre Dame and played, played at Vanderbilt, played a lot of games where our fan base turned out and did a tremendous job of supporting, I think that really helped us with recruiting."
MORE: UGA's incredible recruiting class by the numbers | UGA has high expectations for Otis Reese at safety